Author Bio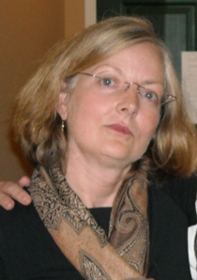 When I was a kid, growing up in Iowa, I didn't know that just anyone could pick up a pencil and write stories. I thought you had to have permission, maybe, or someone else had to designate you as an official writer. So instead of writing down my own stories, I tried to content myself with copying the dialogue from my favorite comic books and mysteries (I was a big Hardy Boys, Trixie Belden and Nancy Drew fan). Imagine my exhilaration when I discovered anybody could write--although preferably not copying other's work. I haven't stopped writing since.

I live in Vermont now, in a log cabin on a dirt road. I've published short stories, essays and articles. Given that I grew up landlocked, I think it's funny that my first published novel takes place on the coast--must be the Norwegian in me!

Often people are surprised to learn that my professional training is in computer science. Personally, I think writing and programming have a lot in common: they are both completely entrancing endeavors that require logic, systematic thought, and perseverance. Getting lost in the intricacies of code and plot are equally exhilarating, frustrating, rewarding and time-consuming! In addition to being a writer and a programmer, I've detassled corn (manually!), helped run field trips to Alaska and taught at the New England Young Writer's Conference.

Find out what I fear most, how I describe my life in 8 words, my biggest regret and answers to more revealing questions here.