The Genie Scheme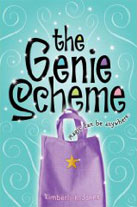 ORDER NOW!


When Janna impulsively buys a winter hat for a bag lady, she expects nothing in return. But Janna's kindness pays off in a big way when the bag lady turns out to be a genie! Now Janna is the genie's master and she couldn't be happier, especially when she learns that the "three wishes" rule is strictly for fairy tales!

Before long, Janna's room is overflowing with clothes and gadgets -- but things aren't quite as simple as they seem. Making wishes comes with its own set of rules, and Janna discovers that "unlimited" has some...well, limits. Genies can't make something out of nothing, so everything that Janna wishes for is taken from somebody else. Oops. And then there's the problem of genie wattage -- there's only so much of it, and Janna is using it up faster than she'd like. What's a greedy girl to do?
---


"Both a fun chapter book and a lesson in the importance of kindness, The Genie Scheme is a good book for middle graders to read on their own or for teachers to share with their classes."
--Michael Jung, Suite 101.com

"...the sparks of humor; the well-drawn, sympathetic characters…make the story something more than just a fictional vehicle for an ideal" --Booklist

"What Janna chooses to do with her wishes will keep readers engaged until the tale's satisfying conclusion." --Kirkus Reviews

FlamingNet gives The Genie Scheme a 10!

"an adorable dose of magic, incorporating some life lessons, a seemingly ordinary girl, and a slightly ditzy genie into a nice little package..... a hilarious novel that has flair, definitely appealing..."
-- Amanda Snow, A Patchwork of Books blog

"Told in an enchanting and non-preachy way, THE GENIE SCHEME will make everyone feel good by the last page. And maybe, it will have a magic of its own...making everyone that reads it want to do a random act of kindness themselves."
--Jennifer Wardrip, TeensReadToo.Com
---
Reader's Guide
Click here for some starter discussion questions for your group.
---
Press Release
Click here to read a press release about The Genie Scheme.